Segunda residência e a construção dos vínculos identitários territoriais no Polo Costa das Dunas / RN
Palabras clave:
segunda casa, laços emocionais e territoriais, utilizador, turista, lazer
Resumen
O artigo tem como objetivo discutir a construção dos vínculos identidários territoriais que os moradores de segunda residência estabelecem com o lugar para fins de lazer. Utilizou-se da metodologia quanti-qualitativa, com amostras aleatórias utilizando-se da técnica de questionários e entrevistas estruturadas aplicadas em municipios localizados no Polo Costa das Dunas. Constatou-se que o lugar onde se localiza a segunda residência representa para o usuário-proprietário um local de "veraneio" "lazer e diversão" "tranqulilidade" e de "reunião familiar". A criação dos vínculos identitários territoriais estabelecem-se a partir de um conjunto de significados construídos a partir do uso dessa tipología de imóvel, como permitir a reunião familiar de forma integrada e desvinculada das obrigações diárias; além de propiciar novas formas de sociabilidades, como relações afetivas com os vizinhos temporários. Conclui-se que a identidade construída a partir do uso da residência secundária é composta por diversas representações sociais e simbólicas, que permitem uma relação diferente e particular do sujeito com o lugar visitado.
Descargas
Los datos de descargas todavía no están disponibles.
Citas
Almeida, A. 2013. Processo de decisão nas organizações: construindo modelos de decisão multicritério. São Paulo: Atlas.
Bateson, J., & Hoffman, K. 2001. Marketing de Serviços. 4.ed. Porto Alegre: Bookman.
Bauer, R. 1960. Consumer behavior as risk-taking. In: D. Cox (ed.), Risk taking and information handling in consumer behavior (pp.23-33). Cambridge: Harvard University Press.
Belton, V., & Stewart, T. 2002. Multiple criteria decision analysis: an integrated approach. Kluwer Academic Publishers.
Benassi P. 1999. TRUSTe: an online privacy seal program. Communications of the ACM, 42(2): 56–59.
Bianchi, C., & Andrews, L. 2012. Risk, trust, and consumer online purchasing behaviour: a Chilean perspective. International Marketing Review, 29(3),: 253–275.
Boshoff, C. 2002. Service advertising: an exploratory study of risk perceptions. Journal of Service Research, 4(4): 290-298.
Brans, J., & Mareschal, B. 2002. Promethee–Gaia, une Methodologie d'Aide à la Décision en Présence de Critères Multiples. Brussels Éditions: Ellipses.
Cantallops, A., & Salvi, F. 2014. New consumer behavior: a review of research on eWOM and hotels. International Journal of Hospitality Management, 36: 41-51.
Cases, A. 2002. Perceived risk and risk-reduction strategies in internet shopping. International Review of Retail, Distribution and Consumer Research, 12(4): 375-394.
Caswell S. 2000. Women enjoy e-shopping less than men. www.ecommerce.com. January 11.
Clemen, R., & Reilly, T. 2001. Making hard decisions with decisions tools. Pacific Grove: Duxbury.
Cox, D., & Cox, A. 2001.Communicating the consequences of early detection: the role of the evidence and framing. Journal of Marketing, 65(july): 91-103.
Cox, D., & Rich, S. 1964. Perceived risk and consumer decision making – the case of telephone shopping. Journal of Marketing Research, 1(4): 32-39.
Cunningham, S. (1967). The major dimensions of perceived risk. Boston: Harvard University Press, 82-108.
Douglas, M. 1990. Risk as a forensic resource. Daedalus, 119: 1-16.
Dholakia, U. 1997. An investigation of the relationship between perceived risk and product involvement. Advances in Consumer Research, 24: 159-167.
Edwards, W., & Barron, F. 1994. SMARTS and SMARTER: Improved simple methods for multiattribute utility measurements. Organizational Behavior and Human Decision Processes, 60: 306-325.
Engel, J., Blackwell, R., & Miniard, P. 1995. Consumer Behavior. 8.ed. Orlando: The Dryden Press.
Figueira, J., Greco, S., & Ehrgott, M. 2005. Multiple criteria decision analysis: state of the art surveys. Boston: Springer.
Forsythe, S., & Shi, B. 2003. Consumer patronage and risk perceptions in internet shopping. Journal of Business Research, 53: 867-875.
Gomes, C., & Gomes, L. 2012. Tomada de decisão gerencial: um enfoque multicritério. São Paulo: Atlas.
Jacobs, P. 1997. Privacy: what you need to know. InfoWorld, 19(44): 111–112.
Kovacs, M. 2006. Estratégias de redução dos riscos percebidos e a satisfação do consumidor com o processo de compra: proposição de um esquema teórico para o comércio eletrônico. Recife. Tese (Doutorado em Administração) – Universidade Federal de Pernambuco.
Law, R. 2009. Disintermediation of hotel reservations: The perception of different groups of online buyers in Hong Kong. International Journal of Contemporary Hospitality Management, 21(6): 766-772.
Laroche, M., MCdougall, G., Bergeron, J., & Yang, Z. 2004. Exploring how intangibility affects perceived risk. Journal of Service Research, 6(4): 373-389.
Maignan, I., & Lukas B. 1997. The nature and social uses of the internet: a qualitative investigation. Journal of Consumer Affairs. 31(2): 346–371.
Murray, K., & Schlacter, J. 1990. The impact of services versus goods on consumer's assessments of perceived risk and variability. Journal of the Academy of Marketing Science, 18(1): 51-65.
Otto, J., Ritchie, J. 1996. The service experience in tourism. Tourism Management, 17(3): 165-174.
Peterson, R., & Merino, M. 2003. Consumer information search behavior and the internet. Psychology and Marketing, 29(2): 99-121.
Robins, S. 2005. Comportamento Organizacional. 11.ed. São Paulo: Pearson Prentice Hall.
Roehl, W., & Fesenmaier, D. 1992. Risk perceptions and pleasure: an exploratory analysis. Journal of Travel Research, 30(4): 17-28.
Roselius, T 1971. Consumer rankings of risk reduction methods. Journal of Marketing, 35: 56-61.
Roy, B. 1994. On operational research and decision aid. European Journal of Operational Research, 73: 23-26.
Roy, B. 2005. Paradigms and challenges. In: J. Figueira, S. Greco, & M. Ehrgott, Multiple criteria decision analysis: state of the art surveys. Boston: Springer.
Saw, S., Goh, Y., & Isa, S. 2015. Exploring consumers' intention toward online hotel reservations: Insights from Malaysia. Problems and Perspectives in Management, 13 (2): 249-257.
Schiffman, L., & Kanuk, L. 1997. Comportamento do consumidor. 6.ed. Rio de Janeiro: Livros Técnicos e Científicos.
Sitkin, S., & Pablo, A. 1992. Reconceptualizing the determinants of risk behavior. The Academy of Management Review, 17(1): 9-39.
Solomon, M., Russel-Bennett, R., & Previte, J. 2013. Consumer behaviour: buying, having, being. Frenchs Forest: Pearson.
Souza, A., Barbosa, M., Kovacs, M., & Marques, R. 2012. Percepción del riesgo em la elección de servicios hoteleros em el ámbito virtual: actitud de los consumidores frente al uso de estrategias de reducción de riesgos. Estudios y Perspectivas en Turismo, 21(1): 52-67.
Souza, A., Melo, F., & Barbosa, M. 2012. Riscos percebidos na aquisição de serviços hoteleiros online: fatores determinantes das estratégias de redução e suas relações com as características demográficas do consumidor. Revista Brasileira de Pesquisa em Turismo, 6(2): 201-215.
Stem, D., Lamb, C., & Maclachlan, D. 1977. Perceived risk: a synthesis. European Journal of Marketing, 11(4): 312-319.
Sun, J. 2014. How risky are services? An empirical investigation on the antecedents and consequences of perceived risk for hotel service. International Journal of Hospitality Management, 37: 171-179.
Taylor, J. 1974. The role of risk in consumer behavior. Journal of Marketing, 38: 54-60.
Viglia, G., Furlan, R., & Ladrón-de-Guevara, A. 2014. Please, talk about it! When hotel popularity boosts preferences. International Journal of Hospitality Management, 42: 155-164.
Vincke, P. 1992. Multicriteria decision-aid. Editor Wiley & Sons.
Wang, L., Law, R., Guillet, B., Hung, K., & Fong, D. 2015. Impact of hotel website quality on online booking intentions: eTrust as a mediator. International Journal of Hospitality Management, 47: 108-115.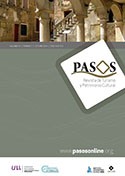 Descargas
Cómo citar
Maria, M. A. P. da F., Lúcia, M. L. B. A., & Renata, R. M. M. de L. (2016). Segunda residência e a construção dos vínculos identitários territoriais no Polo Costa das Dunas / RN. PASOS Revista De Turismo Y Patrimonio Cultural, 14(5), 1229–1240. https://doi.org/10.25145/j.pasos.2016.14.082
Licencia
Confirmo que el trabajo es original (de mi/nuestra autoría), y que no se someterá a otras revistas o publicaciones hasta la resolución definitiva del proceso de revisión en PASOS, RTPC.
Autorizo la publicación de mi trabajo por PASOS, RTPC de acceso abierto y gratuito en cualquiera de los formatos que estime oportunos, por un plazo indeterminado y a título de colaboración no remunerada.
Asimismo, el/los autor/es entiende/n que el trabajo publicado podrá vincularse o depositarse en cualquier servidor o ser incluido en otras publicaciones (republicación), siempre y cuando el nuevo lugar y/o la nueva edición referencie la publicación original y reconozca la autoría y la propiedad del copyright de las publicaciones de PASOS RTPC.
Los/as autores/as entienden que se realizará una comprobación de plagio-autoplagio, pudiendo retirarse el artículo en cualquier momento del flujo editorial