Estado de las relaciones del Parque Nacional Monumento Arqueologico Guayabo con las comunidades de Santa Cruz de Turrialba y Guayabo, Costa Rica
Palabras clave:
Participación, Beneficios económicos, Encuentro, Gerencia de Parques Nacionales, Costa Rica
Resumen
El propósito de este estudio fue el de analizar el estado de las relaciones entre el Parque Na- cional Monumento Arqueológico Guayabo y las comunidades aledañas, de Santa Cruz y Guayabo. En Santa Cruz fueron aplicadas 117 encuestas y en Guayabo 117 en el  2005. Las conclusiones del estudio fueron: 1) el estado de las relaciones entre el PNMNG y las comunidades de Santa Cruz y Guayabo es débil, pero no de confrontación, 2) la escasa participación y los escasos beneficios económicos recibidos, parecen ser los elementos claves que están afectando el estado de las relaciones entre el parque y las comunidades, 3) es urgente que la gerencia del parque utilice los mecanismos comunales para dar a conocer que hace el parque, educar y hacer que los vecinos participen de las actividades de este y 4) la administración del parque debería señalar a las autoridades del gobierno central la necesidad de involu- crar a la comunidad, en los asuntos de parques, para garantizar la sostenibilidad socioeconómica y ecológica de este en el largo plazo.
Descargas
Los datos de descargas todavía no están disponibles.
Citas
Annis, Sheldon 1992 Poverty, Natural Resources, and Public Policy in Central America.. Overseas Development Council. New Brunswick: Transaction Publishers of Rutgers University.
Ansson, Richard J. Jr. 1996 "Our National Parks—Overcrowded, Underfunded, and Besieged with a Myriad of Vexing Problems: How Can We Best Fund Our Imperiled National Park System?" Journal of Land Use & Environmental Law.
Baker, Christopher. 1994 "Costa Rica, Conservation". Luminal Path Corporation and Contributors. <http://www.photo.net/cr/moon/conser vation>. Consultado 10 April 2005
Berg, D. 2002. "Community Park Relations: A Spatial Assessment of Impacts Focus- ing on Cariblanco in Relation to Other Surrounding Communities of VPNP." Directed Research. The School for Field Studies. Atenas, Costa Rica.
Boza, Mario A. 1993 "Conservation in Action: Past, Present, and Future of the National Park System of Costa Rica." Conservation Biology. 7(2): 239-247.
Chase, Alston 1989 "The Janzen heresy." Conde Nast Traveler. November: 122-127.
Chavez, Sergio 1993 "Guayabo de Turrialba: Pasado y Presente." Monografía. University of Costa Rica.
Cestero, Barb 1999 "Beyond the Hundredth Meeting: A Field Guide to Collaborative Conservation". Sonoran Institute. <http://www.sonoran.org/pdfs/Hundre dth Meeting.pdf>. Consultado 10 April 2005
DeBlois, Ekulund and Thomas Blanck- Weiss. 2003 "Parks and People: The State of Relations Between Volcan Poas National Park and The Community of Bajos del Toro, Working Report No 10 English Version." Directed Research. The School for Field Studies. Atenas, Costa Rica.
Dixon, John A. and Paul B. Sherman 1990 East West Center. Economics of Protected Areas: A New Look at Bene- fits and Costs. Washington, D.C.: Island Press.
Drake, Susan P. 1991 "Local Participation in Ecotourism Projects.". In: Whelan, T., ed. Nature Tourism: Managing for the Environment. Washington, D.C.: Island Press. Complications in Defining, Implementing, and Revaluating. Department of Ecological Anthropology, University of Georgia. Pp. 132-155
Eagles, Paul F. J., Stephen F. McCool, and Christopher D. Haynes 2002 Sustainable Tourism in Protected Areas: Guidelines for Planning and Management. Cambridge: Thanet Press Limited.
Eyre, Marcus s/f "Addressing stakeholder conflicts in a Canadian mountain park—Banff National Park and tourism management." <http://www.findarticles.com/p/articles/mi_m1145/is_n9_v33/ai_21222113>. Consultado 12 April 2005
Getzner, Michael s/f "The Economic Impact of National Parks: the Perception of Rural Communities." N.D.
Howe, J., Ed McMahon, and Luther Propst 1997 Balancing Nature and Commerce in Gateway Communities. Washington, D.C.: Island Press.
La Nación 2005 January "Homenaje Vivo" 30: 2.
Muñoz, Ovidio. 2003 "Maravilla en riesgo" Al Día. November 16: 2-5.
Poffenberger, Mark 1994 "Resident Peoples and National Parks: Social Dilemmas and Strategies in International Conservation." American Ethnologist.: 435-436.
Rao, S. Kottapalli, Maikhuri K. Rakesh, and Saxena Krishna 2003 "Local Peoples' Knowledge, Aptitude and Perceptions of Planning and Management Issues in Nanda Devi Biosphere Reserve, India." Environmental Management: 168-181.
Young, Emily 1999 "Local People and Conservation in Mexico's El Vizcaino Biosphere Reserve." Geographical Re- view. 89(3): 364-390.
World Wildlife Fund for Nature. 2004 How effective are Protected Areas. A Preliminary Analysis of Forested Protected Areas. The Largest Ever Global Assessment of Protected Areas Management Effectiveness. Forest Protective Areas Initiative. WWF International Gland. Switzerland.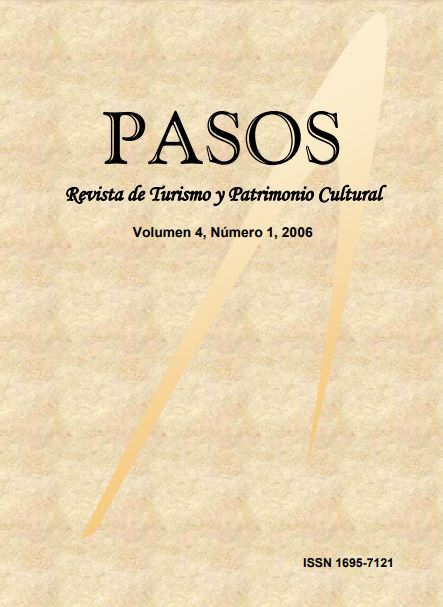 Descargas
Cómo citar
Aguirre, J. A. (2006). Estado de las relaciones del Parque Nacional Monumento Arqueologico Guayabo con las comunidades de Santa Cruz de Turrialba y Guayabo, Costa Rica. PASOS Revista De Turismo Y Patrimonio Cultural, 4(1), 69–83. https://doi.org/10.25145/j.pasos.2006.04.005
Licencia
Confirmo que el trabajo es original (de mi/nuestra autoría), y que no se someterá a otras revistas o publicaciones hasta la resolución definitiva del proceso de revisión en PASOS, RTPC.
Autorizo la publicación de mi trabajo por PASOS, RTPC de acceso abierto y gratuito en cualquiera de los formatos que estime oportunos, por un plazo indeterminado y a título de colaboración no remunerada.
Asimismo, el/los autor/es entiende/n que el trabajo publicado podrá vincularse o depositarse en cualquier servidor o ser incluido en otras publicaciones (republicación), siempre y cuando el nuevo lugar y/o la nueva edición referencie la publicación original y reconozca la autoría y la propiedad del copyright de las publicaciones de PASOS RTPC.
Los/as autores/as entienden que se realizará una comprobación de plagio-autoplagio, pudiendo retirarse el artículo en cualquier momento del flujo editorial