I musei di identità: un'opportunità per lo sviluppo locale e turistico delle aree marginali. Esperienze in Sardegna, Romania e Marocco
Palabras clave:
musei di identità, turismo culturale, sviluppo locale, Mamoiada, Sibiel, Ait Iktel
Resumen
Questo studio analizza la relazione virtuosa che può instaurarsi tra i musei di identi- tà, il turismo culturale e lo sviluppo locale di comunità a economia debole. Vengono riportate le esperienze dei villaggi di Mamoiada (Italia), Sibiel (Romania) e Ait Iktel (Marocco), nei quali, di recente, sono stati istituiti dei musei che valorizzano il patrimonio locale, in specie legato alla cul- tura contadina. Per tutti e tre i casi analizzati, i risultati ottenuti testimoniano l'esistenza di processi di crescita del turismo culturale con implicazioni positive per lo sviluppo locale. In particolare, è emerso che, finora, le attività svolte e promosse dai musei si sono inserite nel più ampio sistema locale, aggiungendo valore alle risorse del territorio e alle capacità produttive delle comunità di riferimento.
Descargas
Los datos de descargas todavía no están disponibles.
Citas
Amirou, R. 2000 Imaginaire du tourisme culturel. Paris: PUF. Anderson, R. 2005 "To thrive or survive? The state and status of research in museums", Mu- seum Management and Curatorship, 20, pp. 297-311.
Angheleddu, G. e Zurbon, E. A. 2002 Disamistade. Una storia di vendet- te in Sardegna, Ernst-August Zurbon Filmproduktion: Deutschland.
Ashworth, G.J. e Tunbridge, J.E. 2000 The tourist-historic city: retrospect and prospect of managing the heritage city. Oxford: Pergamon.
Barbu, I. e Rucinschi, D. 2006 "Descoperirea Romaniei: turismul rural s-a nascut la Sibiel". Jurnalul Naţional (21 luglio 2006).
Chhabra, D. 2008 "Positioning museums on an authenti- city continuum", Annals of Tourism Re- search, 35 (2), pp. 427-447.
Corsale, A. e Iorio, M. 2008 "Musei di identità e processi di svilup- po del turismo culturale. L'esperienza del Museo delle Maschere Mediterranee di Mamoiada, Sardegna". Quaderno di la- voro Crenos, n. 2. Cagliari: Cuec.
Dansero, E. e Governa F. 2003 "Patrimoni industriali e sviluppo loca- le". In Dansero, E., Emanuel, C., Gover- na, F. (a cura di). I patrimoni industriali (pp. 9-42). Milano: Franco Angeli.
Dematteis, G. 2007 "L'insostenibile leggerezza dell'invenzione patrimoniale". In Sistu, G. (a cura di), Vagamondo. Turismi e tu- risti in Sardegna (pp. 263-265). Cagliari: Cuec, Cagliari.
Forni, G. 1999 "Ethnographic museums in Italy: A decade of phenomenal growth". Museum International, 51 (4): 47-51.
Governa, F. 2007 "Sviluppo turistico e sviluppo locale: Quali relazioni". Quaderni IReR. Mila- no: Guerini.
Graburn, N. 1998 "A quest for identity", Museum Inter- national, 50, 3, pp. 13-18.
Harrison, J. 1997 "Museums and touristic expectations", Annals of tourism Research, 20, pp. 23-40.
Hernández, J. B. e Tresserras, J. J. 2001 Gestion del patrimonio cultural. Barcelona: Ariel. 2010
Iorio, M. e Corsale, A. "Rural tourism and livelihood strategies in Romania, Jour- nal of Rural Studies, Vol. 26, Issue 2, pp.152-162.
Jansen-Verbeke, M. e van Rekom, J. 1996 "Scanning museum visitors: urban tourism marketing", Annals of tourism
Research, 23, pp. 23-40.
Karp, I., Kratz, C., Szwaja, L., Ybarra Frausto, T., Buntinx, G., and Kirshenblatt-Gimblett, B. 2006 Museum frictions: Public cultures/global transformation. Durhamn : Duke University Press
Le Lannou, M. 1941 Pâtres et paysans de la Sardaigne. Tours: Arrault.
Maggi, M. 2001 "Ecomusei, musei del territorio, musei di identità". Nuova Museologia 4: 9-11.
Mernissi, F. 1997 Les Aït Débrouille. Casablanca: Fennec Editions.
Plaza, B. 2000 "Guggenheim museum's effectiveness to attract tourism". Annals of Tourism Research, 27 (4): 1055-1058.
Polveroni, A. 2007 This is contemporary! Come cambiano i musei d'arte contemporanea. Milano: Franco Angeli.
Richards, G. 2007 Cultural tourism. Global and local perspective. New York: Haworth Press.
Scalise, I. M. 2007 "Siamo un volano per l'economia ecco perchè ci chiamano". La Repubblica (15 ottobre, 2007).
Silberberg, T. 1995 "Cultural tourism and business opportunities for museums and heritages sites". Tourism Management 16 (5): 361-365.
Sistu, G. 2007 (a cura di) Immaginario collettivo e identità locale. La valorizzazione turistica del patrimonio culturale fra Tunisia e Sardegna. Milano: Franco Angeli.
Smith, M. e Robison, M. 2006 Cultural tourism in a changing world: Politics participation and (re) presentation. Clevedon: Channel view publications.
Staniscia, B. 2006) "Sviluppo locale e turismo. Un percorso di ricerca". in Buzzetti, L., e Montanari A. (a cura di). Nuovi scenari turistici per le aree montane (pp. 51-80). Trento: Valentina Trentini Editore.
Tao, T. C. H. and Wall, G. 2009 "Tourism as a Sustainable Livelihood Strategy". Tourism Management 30 (1): 90-98.
Thimothy, D. J. and Boyd, S.W. 2006 "Heritage tourism in the 21st century: Valued traditions and new perspectives". Journal of Heritage Tourism 1 (1): 1-16.
Tufts, S. e Milne, S. 1999 "Museums: a supply-side perspective", Annals of tourism Research, 26 (3), pp. 613-631.
Urry, J. 1995 The Tourist Gaze. London: Sage.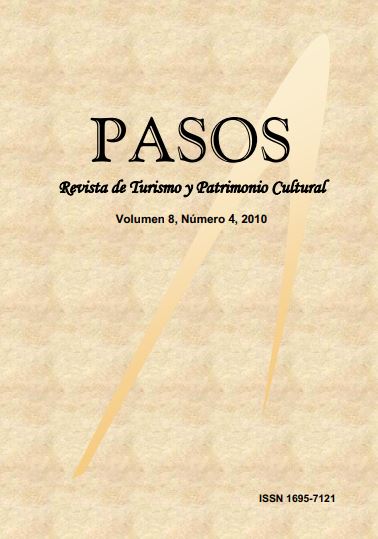 Cómo citar
Corsale, A., & Iorio, M. (2010). I musei di identità: un'opportunità per lo sviluppo locale e turistico delle aree marginali. Esperienze in Sardegna, Romania e Marocco. PASOS Revista De Turismo Y Patrimonio Cultural, 8(4), 555–568. https://doi.org/10.25145/j.pasos.2010.08.048
Licencia
Confirmo que el trabajo es original (de mi/nuestra autoría), y que no se someterá a otras revistas o publicaciones hasta la resolución definitiva del proceso de revisión en PASOS, RTPC.
Autorizo la publicación de mi trabajo por PASOS, RTPC de acceso abierto y gratuito en cualquiera de los formatos que estime oportunos, por un plazo indeterminado y a título de colaboración no remunerada.
Asimismo, el/los autor/es entiende/n que el trabajo publicado podrá vincularse o depositarse en cualquier servidor o ser incluido en otras publicaciones (republicación), siempre y cuando el nuevo lugar y/o la nueva edición referencie la publicación original y reconozca la autoría y la propiedad del copyright de las publicaciones de PASOS RTPC.
Los/as autores/as entienden que se realizará una comprobación de plagio-autoplagio, pudiendo retirarse el artículo en cualquier momento del flujo editorial