Students perception of the 21st Century Chefs
Palabras clave:
Gastronomy, Education, competencies, Costa Rica
Resumen
 El sector turístico en Costa Rica representa entre el 6 y el 7% del PIB y entre el 25% y el 30% de esta contribución proviene de los alimentos y los servicios relacionados con los alimentos. La profesionalización de los chefs es esencial para el mantenimiento y la estabilidad de esta contribución. El estudio identifica la percepción de los estudiantes de artes culinarias en relación con las habilidades requeridas para ser un chef exitoso. Se realizó un censo de los 184 estudiantes en la escuela de artes culinarias de una universidad privada. El estudio demostró una sólida validez de constructo con un valor alfa de 0,88. Los resultados del estudio indican la necesidad de combinar las habilidades técnicas y de gestión en el currículo de los estudiantes, ya que éstos perciben claramente esta combinación como una necesidad futura. El análisis factorial identificó dos factores: un primer factor, asociado a las habilidades generales de gestión y un segundo factor con las habilidades, valores, actitudes y características personales. Los resultados sugieren la necesidad de una cooperación transdisciplinar entre los estudiantes de formación técnica y gerencial y los cocineros, algo que ya está aceptado en algunas de las escuelas más grandes de Estados Unidos y Europa.
Descargas
Los datos de descargas todavía no están disponibles.
Citas
Bisset R, Cheng L and Braman P. 2009 "A qualitative assessment of Culinary Science Competences. Defined by the Research Chef Association". Journal of Culinary Science and Technology. 7: 285-293.
Bissett Rachel L. (2009), Food and Nutrition An Assessment of the Research Chefs Association's Core Competencies for Practicing Culinologists. A thesis presented to the faculty of the College of Health and Human Services of Ohio University (141 pp.)
Canter, Deborah D. Mary Etta Moorachian, Janice Boyce 2009. The Growing Importance of Food and Culinary Knowledge and Skills in Dietetics Practice Department of Hotel, Restaurant, Institution Management and Dietetics Kansas State University. Manhattan 23 pages
Cheng,Godwin, Michael, Charles A Ogbeide, and Fayrene l. Hamouz 2011 The development of culinary arts and food science into a new academic discipline—culinology journal of culinary science & technology, 9:17-26,
Chen Y. Y and S. Y. Hsu. 2007 An Experiment and Planning of Curriculum for Preparing Practical Competencies of Hospitality Management Students Asian Journal of Management and Humanity Sciences, 1(4): 577-589
Cohr Lützen, Astrid 2010. Head chefs & leadership – A study of Copenhagen's top gourmet restaurants. Copenhagen Business School. 132 pages
Dolphin Tony and Tess Lanning 2011.Rethinking Apprenticeships Institute for Public Policy Research. London. 137 pages
Feng Li-Yia, Ya-hui Su, Chao-Chin Yang, Chang-Hui Hsu 2011 University hospitality teachers' industry experiences and their influences on university teaching practices in the classroom. National Kaohsiung University of Hospitality and Tourism, Taiwan.18 pages
Fu-Jin Wang, Chia-Jen Hung and Peir-Yuan Patrick Li 2011 "The indispensable chef competency appraisal of HACCP certified contract food service companies", Taiwan Pak. J. Statist, 27(5): 645-654
Gersh, Iris 2011 Culinary Industry Practitioners and Educators' Perceptions of Core Competencies for a Four-Year Bachelor's Degree in the Culinary Arts (2011). Dissertations. Paper 31.http://scholarship. shu.edu/dissertations/31 281 pages
Gomez, Marie-Léandre Isabelle Bouty Carole Drucker-Godard 2011.Knowing In Practice: The Case Of French Grand Restaurants. Contact information. M.L. Gomez, 92 Blvd de Grenelle, 75015 Paris, France; tel. +33 1 45 71 07 02; e-mail:20 pages
Harrison Lyn Peter Kelly 2006 Passion in Jamie's Kitchen: The Vital Ingredient in Education and Training for Young Workers? HAR06206. 11pages.
Hayama Mika, Rebecca Simms and Peter Jones 2003 Flight Catering Chefs in the UK, USA and Japan: production workers, process managers, or development gurus? Occasional Paper Series: No. 1 Travel Catering Research Center. University of Surrey,. 37 pages
Instituto Costarricense del Turismo (ICT) 2012. Informe Anual. San Jose. Costa Rica. 345 pag.
Johanson Misty, Richard Ghiselli, Linda J. Shea, and Chris Roberts 2010 Revealing KeyCompetencies of Hospitality Graduates Demanded by Industry: A 25-year review ( July 31, 2010). International CHRIE Conference-Refereed Track. Paper 5. http://scholarworks.umass.edu/refereed/ CHRIE_2010/Saturday/5
Lee Yonghak.Competencies Needed by Korean 2010 HRD Master's Graduates: A Comparison Between the ASTD WLP Competency Model and the.Korean Study. Human Resource Development Quarterly, vol. 20, no. 1, 107-133
Munñoz, Osvaldo 2012. Personal Communication. Statistics Unit. Costa Rica Tourism Institute.
Palmer, C., Cooper, J. and Burns, P. 2010 Culture, identity, and belonging in the ''culinary underbelly'', International Journal of Culture, Tourism and Hospitality Research, 4(2): 311-26
Pettersen Normand 2006 Leadership et P.M.E.:comment être un bon chef ? Gestion, 30(4): 43-50
Rigg Michael W. s and Aaron W. Hughey. 2011 Competing values in the culinary arts and hospitality industry Leadership roles and managerial competencies Industry & Higher Education, 25(2): April 2011, 109-118,
Richard N.S. Robinson Alison Taafe 2007 Season To Taste And Cook Till Done: Further Education Innovations For Australian Chefs The University of Queensland, School of Tourism, Australia. 11pages
Smyth Thomas J. 2001 Culinary Arts Competencies I the Hospitality Curriculum A thesis submitted to the Faculty of the school of Hospitality and Service Management at the Rochester Institute of Technology, in partial fulfillment of the requirements for the degree of Master of Science. 47 pages
Van Leeuwen Keith, Robert Mandabach and J. Harrington 2010 Effectiveness of Culinary Curricula: A Case Study. George Brown College Toronto, Ontario Canada. 8 pages.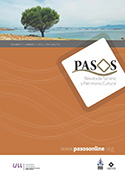 Descargas
Cómo citar
Aguirre, J., & Andrade, L. (2013). Students perception of the 21st Century Chefs. PASOS Revista De Turismo Y Patrimonio Cultural, 11(2), 417–425. https://doi.org/10.25145/j.pasos.2013.11.027
Licencia
Confirmo que el trabajo es original (de mi/nuestra autoría), y que no se someterá a otras revistas o publicaciones hasta la resolución definitiva del proceso de revisión en PASOS, RTPC.
Autorizo la publicación de mi trabajo por PASOS, RTPC de acceso abierto y gratuito en cualquiera de los formatos que estime oportunos, por un plazo indeterminado y a título de colaboración no remunerada.
Asimismo, el/los autor/es entiende/n que el trabajo publicado podrá vincularse o depositarse en cualquier servidor o ser incluido en otras publicaciones (republicación), siempre y cuando el nuevo lugar y/o la nueva edición referencie la publicación original y reconozca la autoría y la propiedad del copyright de las publicaciones de PASOS RTPC.
Los/as autores/as entienden que se realizará una comprobación de plagio-autoplagio, pudiendo retirarse el artículo en cualquier momento del flujo editorial